A NASA supporter at a past protest demo. [PHOTO/Tuko]
They say a demo has no limits. And during the NASA demos, a lady was caught in the mix trying to do her thing. I believe I can fly....
[PHOTO/Tuko.co.ke]
There were others who decided that perhaps undressing in the public would have the message driven home. And they undressed before everyone's eyes....
A NASA supporter undresses in public. [PHOTO/tuko.co.ke]
Another version of a police officer that is never discussed if the 'face value'. Why did the photographer blur the other images in this photo?
[PHOTO/the-star.co.ke]
Among the greatest photos of the demos period came when police and rioters collided at Gatina Primary School. With the children caught in between, it was difficult for them to decide where they belonged in a war they had no information about. POlice officers again rose to the occasion and rescued the children.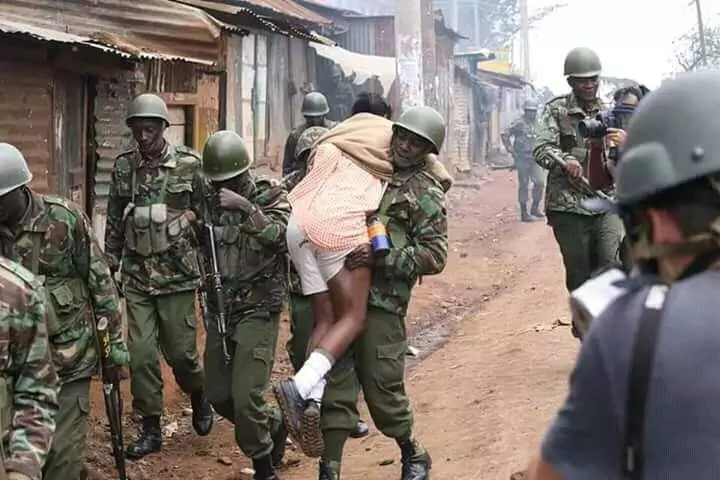 Police officers rescue Gatina Primary School children caught up in protests [PHOTO/nation.co.ke]
Despite the heat on the streets, we are still Kenyans. Human being who care for each other. That's why an officer will drink from what the mwananchi drinks and life will continue.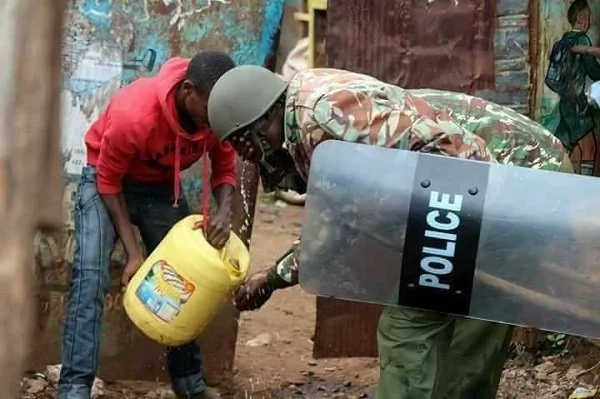 [PHOTO/the-star.co.ke]
And then there was the officer who raised controversy. Turned out it was mistaken identity.
An officer takes guard during the NASA demos. [PHOTO/Citizentv.co.ke]
As Nairobi was witnessing the drama of people undressing in public, there was an 'officer' in Kisumu walking with an entire armory on his chest. This was a matter that knew no man nor woman. Perhaps the Art of War can get good examples of deception here.
[PHOTO/the-star.co.ke]
After the running battles in Kisumu, resident said police are their brothers. It was time to help....
Residents help to push police a vehicle from a ditch[PHOTO/nation.co.ke]
There were moments of loyalty.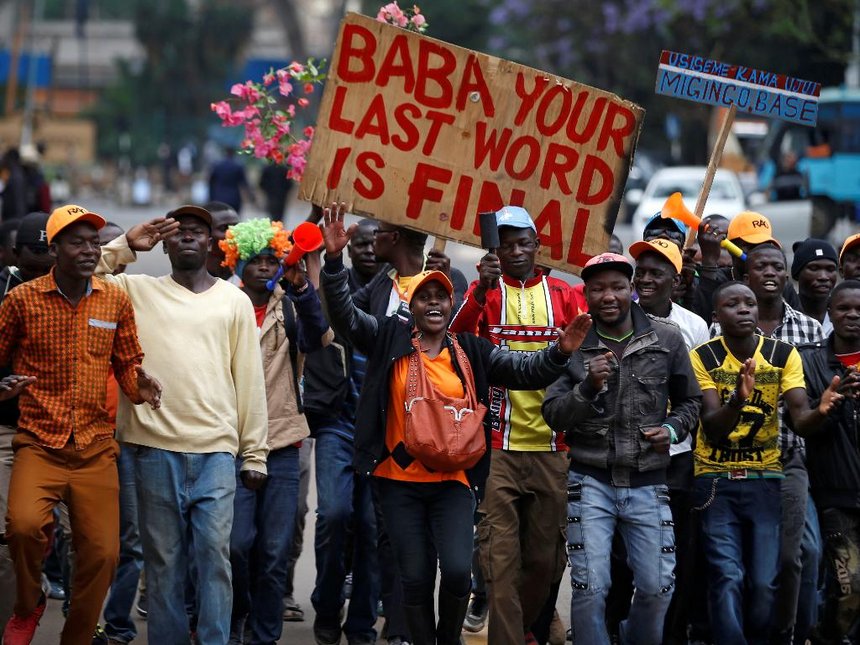 [PHOTO/the-star.co.ke]
Well, what men can do, women will learn better. Kenya has produced great javelin talent in the YouTube man. Perhaps there are more taking those lessons. But what was on her mind?
A protestor throwing a stone during demos. [PHOTO/kenyans.co.ke]