Nairobi Governor Mike Sonko (right) with his deputy Polycarp Igathe (right). [ Photo/Kenyans.co.ke]
Polycarp Igathe has resigned as the Nairobi City County deputy governor.
In a letter to Governor Mike Sonko dated January 11, 2018, Igathe says, "Serving Kenyans in Nairobi under your leadership, has been a high honour and distinct privilege. I am grateful to Nairobians and yourself for giving me the opportunity to serve."
Through his twitter handle, Igathe said, "Dear Nairobians, it is with a heavy heart that I resign my seat as elected Deputy Governor of Nairobi City County effective 1 pm on 31st Jan 2018. I regret I have failed to earn the trust of the Governor to enable me to drive Admin & Management of the county."
"Without fear, favour or ill will I step down to avoid abusing or betraying my oath of office to Kenyans, Nairobians & my family. Thank you for the encouraging support given to me so far," he added.
Last year December reports of a rift between the two county leaders emerged, but the governor dismissed the claims.
Sonko and Igathe vied for office on a Jubilee Party ticket.
Here is Igathe's letter of resignation also copied to Nairobi County Assembly speaker Beatrice Elachi: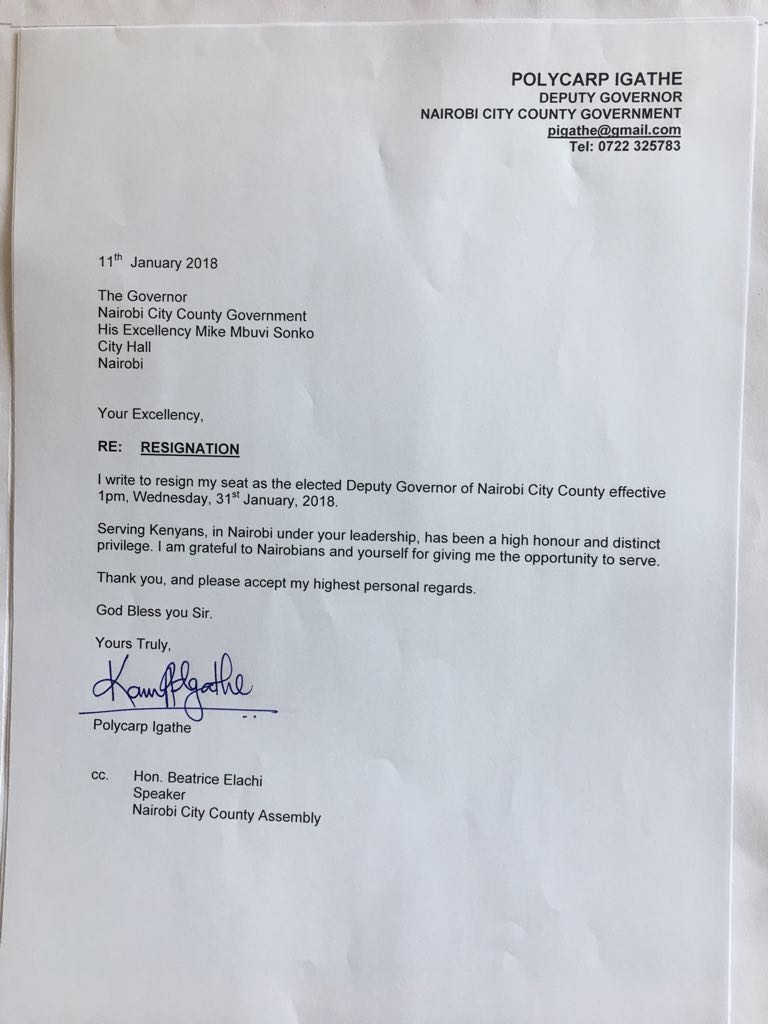 Get breaking news from Nairobi as they happen! WhatsApp the word Nairobi to 0717410719
Thank you for reading my article! You have contributed to my success as a writer. The articles you choose to read on Hivisasa help to shape the future of news across Africa.
-Nicholas Sewe