Governor James Ongwae of Kisii County (C) receives his election certificate, August 12, 2017. [Photo: James Ongwae]
IEBC Returning Officer for the gubernatorial election in Kisii County Dr Sidney Namlungu, has declared Governor James Ongwae, governor elect.
This is after he garnered 206,164 votes in the August 8 polls.
"I wish to thank the Almighty God for His grace and favour in granting victory to NASA and myself in this election. I am humbled by this massive show of support and the confidence you have shown in my party and me," he said.
He particularly thanked the people of Kisii County for braving the elements and the long queues to turn out in large numbers to exercise their democratic right through the vote.
"I also wish to commend you for the mature, peaceful and orderly manner in which you conducted yourselves throughout the electioneering period. I would have wished to thank each of you individually, but that would take too much time. However, the following require special mention."
"Firstly, I thank my family who have been patient enough to allow me take part in this grueling campaign. To my lovely wife Elizabeth, and my children, thank you for your constant encouragement and the love and support you have given me," said Ongwae who is in his second term now.
He also thanked his campaign secretariats, well-wishers, and fellow Kisii County residents.
"You have elected me as Governor, Kisii County to serve all the 1.3 million people of Kisii County. You have afforded me a second chance to serve as Governor and I commit to serve all without discrimination or regard to political affiliation."
"As indicated in my re-election manifesto, I renew my commitment to build a prosperous county for all and I shall endeavor to ensure all my pledges are fulfilled."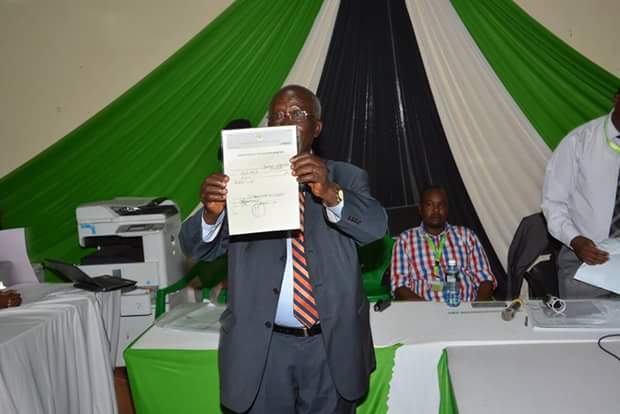 ​
Sam Ongeri also received the his certificate as the Kisii senator elect, Saturday.